Drink Tap Water and Contribute to SDGs – KRNWTR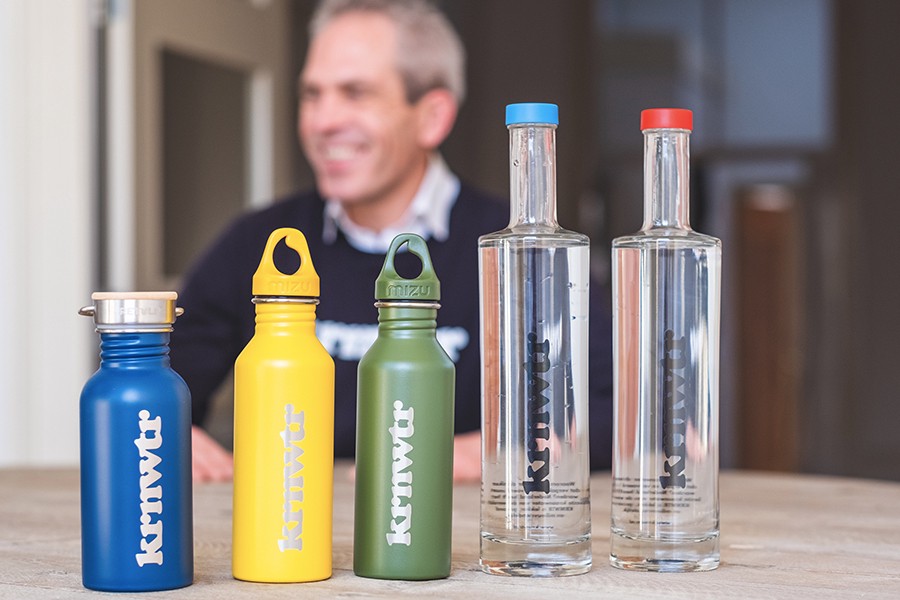 Have you ever wondered how much of our water comes in plastic bottles and where it comes from?
The original article "Drink tap water and contribute to SDGs. KRNWTR, a water company in the Netherlands" is a part our WORK MILL publication.
Until recently, I had never thought about it. The reason for thinking about this was KRNWTR.
KRNWTR is a unique company that benefits from branding tap water. From their corporate stance, we can learn a lot about our efforts as members of society as well as the SDGs which are a hot topic of discussion now.
Things that come from afar are not always good
When do you buy water in plastic bottles? The designed plastic bottles are fashionable and easy to carry, but they emit CO2 for transportation and increase the consumption of plastic bottles. "Bringing things from far away is not always good," the founder of KRNWTR, Tom Niekamp says and he directly opposes this plastic bottle culture.
Tom Niekamp, KRNWTR founder
After graduating from the University of Maastricht in the Netherlands, he worked for ABN AMRO, a major Dutch bank. After that, he studied commercial communication and worked for an advertising company. Tom established KRNWTR in 2010 which continues to the present
KRNWTR's business concept is "to encourage people to stop drinking bottled water and encourage them to drink tap water instead." The tap water in the Netherlands is clean and can be replenished anywhere with your own KRNWTR bottle. However, 300 million plastic bottles are thrown away every year in the Netherlands. These plastic bottles are transported over long distances before lining up in stores and may be thrown away in places of natural beauty. "Stop creating waste and CO2 for one-time use packages and drink sustainable tap water," says founder Tom.
KRNWTR rents the equipment for extra filtered, chilled & sparkling water from € 75 per month (purchasable from € 1,735). Next to the filling station, there is a signpost showing from the distance that typical bottled mineral water has travelled to reach you.
Since KRNWTR is tap water, it is 0km. No plastic bottles are consumed.
The distance that bottled mineral water is carried is listed next to the bar.
When I saw this bar for the first time, I thought it was a kind of water server, but in reality, tap water is connected to this bar. Pulling the left lever produces carbonated tap water, and pulling the right lever produces still tap water.
Entrepreneurship to contribute to the world
KRNWTR was founded in 2009 by Tom Niekamp and Tetsuro Miyazaki. The two were college classmates. Miyazaki is currently working as a photographer and has been away from the KRNWTR business for several years, but Miyazaki was in charge of this photoshoot, and it seems that good relations continue as ever.
The starting point for the entrepreneur was questioning why we chose to drink bottled mineral water and pay the transportation cost, despite tap water being both safe and delicious.
Drinking KRNWTR can also contribute to SDGs. The company aims to solve social issues and cannot expect explosive profits but Tom told us he started the business with the desire to contribute to the world. In line with this philosophy, companies, and restaurants have adopted KRNWTR to also do their bit.
Held a municipal tap water contest
There are 12 provinces in the Netherlands, and KRNWTR holds its own awards every four years to determine which municipality's tap water is the best. Last year, Tilburg took first place on March 22nd (World Water Day). Judges include wine journalists, brewers, water sommeliers, and coffee experts. As the tastings are done by professionals, it helps prove that tap water is delicious enough to drink and helps raise awareness of the quality of tap water provided by local authorities.
Tasting each municipality tap water
Communication Design
KRNWTR's taps are made of bamboo and handmade by a local furniture maker in Amsterdam. There is a deeply instilled corporate attitude towards working with local companies for environmentally friendly business operations.
This unique tap was stylishly designed to blend into the room as furniture and make it attractive to people who drink water. It is installed not only in company offices but also in schools and gyms, too. Through the KRNWTR tap point, we can get educated about tap water in the Netherlands.
Even if it's beneficial to society it doesn't quite convey the message by saying "Let's drink tap water." However, if you have something that has both functionality and great design like the KRNWTR taps and bottles, you may be more inclined to contributing by utilizing them.
Proper hydration at work will positively affect your performance, and it can also help you get in touch with the people around you during a short break to drink water. Above all, it is attractive that we can incorporate our contributions to nature and SDGs so easily into our everyday lives. KRNWTR is also active in enlightening the organizations that make use of their taps. They endorse the "The Healthy School Canteen" initiative and provide schools with knowledge and experience gained through their work on healthy and sustainable diet and nutrition.
Enlightenment activities at restaurants
When you eat at a restaurant in the Netherlands, asking for tap water is not always welcomed like in Japan. When I had dinner with a Dutch friend, I said "tap water please". Then this friend told me, "you can ask for tap water, but if you are considerate about the restaurant, it's better to ask for a drink". I understood that the way of thinking was different from Japan. Since then, I have been drinking mineral water listed on the menu instead of tap water. However, KRNWTR is working to recommend tap water. This includes restaurants where along with mineral water, KRNWTR is listed as "KRNWTR 2 euros". Visitors to the restaurant can learn about Dutch tap water and benefit from it.
How KRNWTR works
In this way, KRNWTR is engaged in educational activities everywhere related to water. It has been 10 years since the company was founded and it is growing steadily. Last year, the number of employees increased by eight and to date, more than 200 companies, schools, and catering facilities are using KRNWTR and more than 10,000 consumers have purchased their stainless steel water bottles. This has already saved 18 million plastic bottles. In 2020, they relocated their office to a building along the canals in central Amsterdam and are considering expanding to other European countries.
Three of the nine members are women and the company is open and transparent. "Everyone can give their opinion, regardless of gender or age," said Tom. The Netherlands is famous for Work sharing and regular employees here generally do not have side jobs and work from 9 am to 5 pm on weekdays. They sometimes work overtime during busy seasons but they seem to be trying to get their jobs done so that no one person is overloaded. Some employees do side jobs outside business hours, but generally they concentrate on their main business.
They donate 5% of their sales to plastic reduction activities and sometimes all employees even go down to the sea to collect garbage together. Using KRNWTR can contribute to creating a better world just by drinking tap water. and there are benefits for companies as well as employees and consumers. We can lower costs compared to buying bottled water and using the regular water servers. In the case of regular water servers, transportation is required to replace the plastic tank, but in the case of KRNWTR, once installed there is no further cost for transportation.
Thinking from a glass of water
KRNWTR's activities provide insights into how we go about things in our day to day lives. We need to think about the things we use, where our products originally came from and how they are discarded. In Europe, where SDGs are advancing, design of products that considered all stages of product life — from production to end of life — is being increasingly focused on. In the case of a water, for example, such design can raise awareness by posing questions such as where the water itself is produced, how long it has had to travel, how the water container is produced and disposed of and what the total CO2 emissions for the product are. In the last few years, there has been more and more consideration about how our working lives can sustain individual happiness and family happiness but also about how our production and consumption behaviors affect the environment. I feel like we aren't ready yet in Japan. Europe is one step ahead in this regard with many entrepreneurs, employees and consumers thinking that a good working environment is not only good for themselves, but one for the people around them and the rest of the global community and planet. We can make a difference by stopping and thinking about how the products that we usually reach for have been produced and whether the products we produce infringe on others or nature. Just the same as the Netherlands, Japan's water is as safe and has guaranteed quality. So, how about carrying your own re-usable bottle and limiting the purchase of plastic bottles as much as possible?
Text credit: Mariko Sato