Art Business to Tackle Poverty and Environmental Issues – Mago Nagasaka, Artist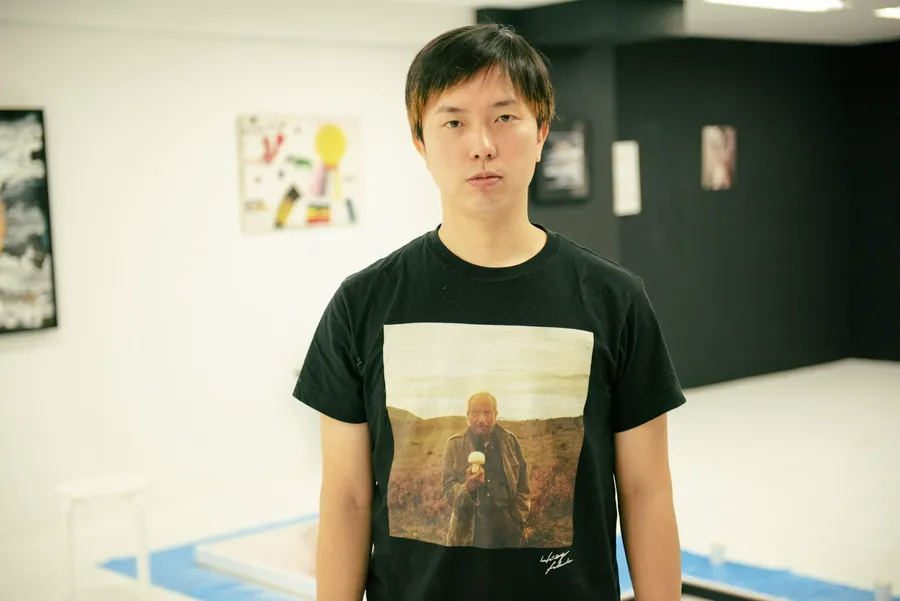 How much waste do you produce each day? Our waste is sorted into different categories so that it can be appropriately processed by specialized recycling companies. But what if trash that should have been recycled is not for some reason, and ends up being disposed in some faraway country?
In the studio of Mago Nagasaka, artist and president of MAGO CREATION, electronic waste arrives regularly from Ghana's slums. Among this mix of garbage are gaming consoles, cell phones… gadgets familiar to all of us.
"Recycling something takes a huge amount of money and work. Throwing something away costs you as much as it was worth. To cut costs, you can send two or three containers to Ghana and let them deal with it, and sadly, that is exactly what some companies choose to do."
Mr. Nagasaka experienced this absurd reality in Ghana first-hand. Since then, he transforms electronic trash into art, not only to raise awareness of the poverty and environmental issues but also to build a recycling plant right there in Agbobloshie, Ghana with the profits from his art.
"I believe in the power of art"— this is Mr. Nagasaka's conviction. But what made him go to Ghana and why did he start making art from electronic waste? In the second part of this story, we talk with Mr. Nagasaka about his solution approaches and his business model, as well as his vision for the future he wants to see.
Find a Breakthrough by Thinking Outside Genres
WORK MILL: In 2020, flights to other countries were largely cancelled because of the coronavirus pandemic. This surely affected your activities as well?
Nagasaka: Yes, I wasn't able to go to Ghana for an entire year. I usually spend around half of a year living abroad. Some work I had planned to do also got cancelled and I was getting a bit worried. So I tried clear my head and decided that I had to create some new formats for what I was doing.
One idea was to open galleries throughout the country. There are now MAGO GALLERYs in Ginza, Osaka, Shiga and Fukui that handle consignment sales of my art. While I receive affiliation fees from these galleries, there is no need to procure other artwork and because the galleries hold onto my works, I don't have to contract with storehouses either. The proceeds from any sales are split evenly. I plan to have galleries in a total of eight cities in 2021.
Another idea was an online gallery. I built a system where people can buy art online without having to go to a physical gallery. When an artwork is sold online, a 5% commission goes to the gallery that has this piece in their collection.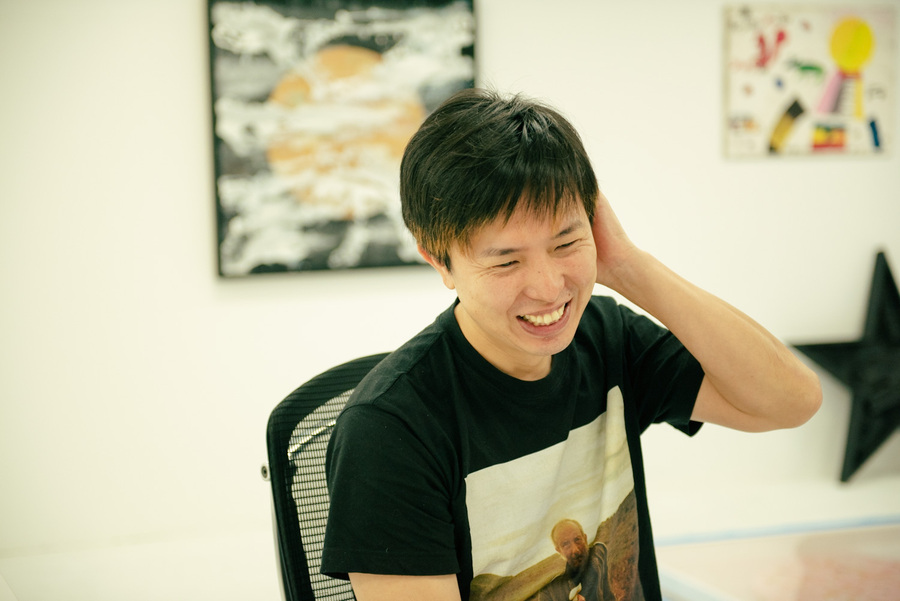 ーMago Nagasaka
Artist and president of MAGO CREATION corporation. Born 1984 in Fukui prefecture. Moved to Tokyo and enrolled at Bunka Fashion College. Worked as host in Shinjuku after graduating. Became number one host and started his own apparel brand, but closed shop again within the year. Started as street artist in 2009. Visited the slums of Agbobloshie in Ghana in June 2017 and was shocked to see how serious the environmental, health and poverty issues were there. Began producing and selling artworks made from recycled electronic waste. Founded MAGO ART AND STUDY in 2018 and the E-Waste Museum in 2019. The documentary film "Still A Black Star" on Mr. Nagasaka's work won the American Impact DOCS Award 2020 in four categories.
WORK MILL:The usual model for art sales is that the gallery signs a contract with the artist and the gallerist (art dealer) is then responsible for the actual sale. Does this mean that your way of selling your art yourself is an exception in the industry?
Nagasaka: Yes, I broke a taboo in the industry (laughs). When you sign a contract with a gallery, almost all will tell you to not do any business elsewhere. But a gallery is always affiliated with several good artists, and the chance for a solo exhibition comes only once or maybe twice a year.
My goal is to build a recycling facility as quickly as possible. If I want to maximize the chances of getting my art out in front of people, then I have no choice but to do it like this.
I learned lately that when I feel uncomfortable with how things are done, I can turn this into a huge opportunity. If I contract with a gallery, I can hold a solo exhibition only once or twice a year and if I'm unlucky, I only get about 20% of the proceeds. I felt this was not quite right, seeing that I am the one providing the entire artwork, including the supplies I need to make it.
Nowadays, artists themselves can be present on social media and fans can order their art directly via social media channels. With ever more information getting shared on the internet today, works of art can be publicly promoted to much more people than before and in this way, their value gets decided more objectively.
WORK MILL: Before, gallerists would discover new young talents and then take on the responsibility of increasing the value of their work by evaluating them.
Nagasaka: Yes, but I think many parts of the art world are rather obscure. I made these open and transparent. I was warned that I would be taking away the industry's reason for being if I did this.
Although as it turns out, exhibitions in department stores keep being announced and I hear from many artists that they want to open up their own galleries now, too. Many of them are already running a business and have a large base of local customers. They are surprised when I tell them how my galleries operate and how fair the conditions are for everyone involved.
WORK MILL: In retail, it is a matter of course to buy a stock of the goods you want to sell. Thinking outside the box of only one industry may show you opportunities for a potential breakthrough. In that sense, it was also rather unusual for you to present at the Industry Co-Creation ® (ICC) summit, which is a business conference. You generally expect start-up founders to take center stage at such events.
Nagasaka: That's right. I didn't know what the ICC summit was at first, either. I was working together with a producer who had previously won an Emmy Award on making the film "Still A Black Star." We had originally planned to produce it with financing via a production committee system but when that didn't work out, we had to come up with the funding ourselves. When talking with a manager I knew on how to raise capital, he told me about crowdfunding and this ICC summit.
Our presentation was one out of a group of ten startup companies, but we ended up getting selected for the Grand Prix. Maybe coming from a totally different genre was what made our idea look fresh and interesting and we got many funding offers from investors wanting to contribute. We also collected more than 30 million yen via crowdfunding. Also, the film we produced won the American "Impact DOCS Award" in four categories. If the US release goes as planned, I think this might boost the value of my art a bit more.
I Want To Solve Social Issues With Art
WORK MILL: Nevertheless, those 3 years since your first visit to Ghana in 2017 brought a surprisingly large change to your work.
Nagasaka: Yes, but you know, what I'm doing is not something huge like creating a new technology that hasn't existed before. It is actually really low-tech. There is nothing new about painting pictures and building a recycling facility. It was only new because nobody had mixed economic rational thinking with the art world before. And nobody had combined these totally different things and then committed to seeing it through to the end. I think that's really all it is.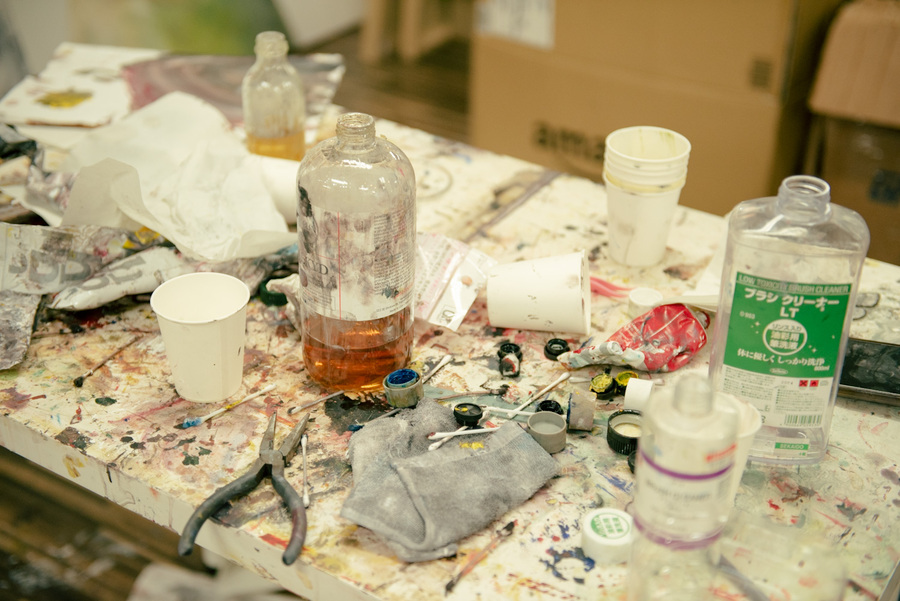 WORK MILL: Right now, SDGs are being discussed very widely and everyone is now aware of poverty and environmental pollution and the need to solve these problems. But it is still rare for someone to get as deeply involved and to go as far as you do. What do you think is the reason that you were able to start doing something?
Nagasaka: I am an extreme realist or rather, I don't really understand things if I don't go to the place in question and see things for myself. In today's world there is so much information out there that after reading some articles on the internet you feel like you "kind of" understand a problem, right?
However I see this as a kind of distorted worldview, because in your head you paint a picture of the world based on selective information and that makes it limited and superficial. There are many things that you can't really understand without seeing them yourself and unless you take action, you will never get to see the true picture.
I got this impression both when I went to Paris and when I went to Ghana and the hints I found while following this path will become key to solving the problem.
For example, you said earlier that the Japanese art market is small, but even for such a well-established market in a country as developed as Japan, there is still so much undeveloped space left. Nobody expects that. But in reality, the market space is expanding every year and holds large opportunities.
When I was living in New York for a year and a half, I watched artists from all over the world flock to the city, believing in their dreams, and make a life for themselves there, but only a handful manage to live comfortably. Most just barely make ends meet and it's an even harder fight for me as an Asian person. It's exactly because I am doing this in Japan, that I can aim for 10 billion in sales.
WORK MILL: You have declared one goal of your company to be "Gather 10 billion yen in funds and build a recycling factory in Ghana in 2030." But on the other hand, the economic disparity between countries could be said to be the very reason why your artworks have become so valuable. Once the recycling factory is complete, do you think this will also affect your artworks?
Nagasaka: I don't intend to keep things going in this way forever. I've decided that as soon as the factory is finished, the local people have new employment opportunities and a healthy work environment, I will end the Ghana project. I want the people in Ghana to be able to run the recycling facility without us and so one person from the staff in Ghana whom I trust will come to Japan, so they can learn the necessary know-how and negotiation skills for the recycling equipment. The people in Ghana feel very strongly about changing their home country for the better, so I want to support that.
When do you think an artwork reaches its highest value? I think it's in the moment the artist disappears. The artist will never make new artwork again, so the rarity increases. In other words, when the Ghana project is finished and I won't make new artwork related to Ghana any more, the value of the existing pieces will instantly go up. You let the artwork "die an imaginary death," so to say.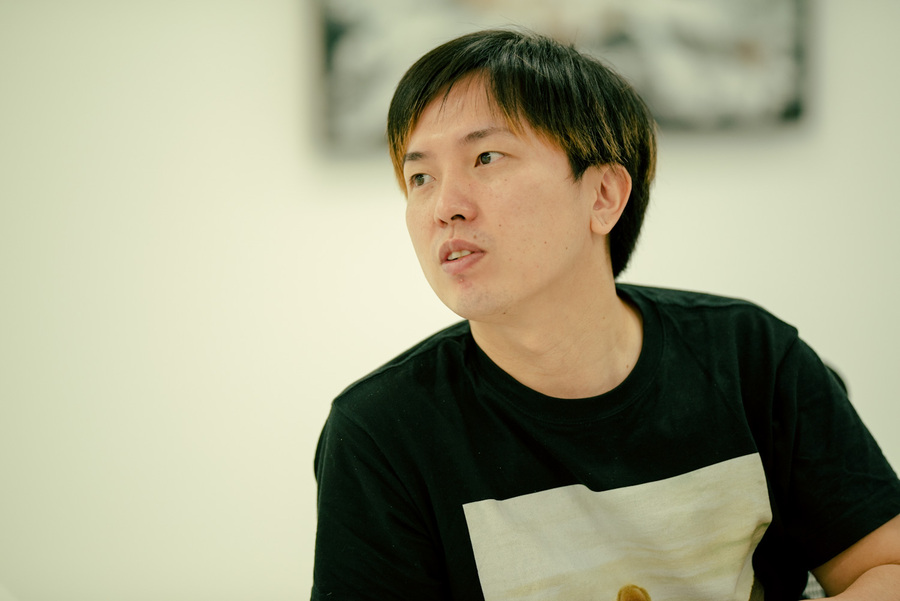 There are still many poor regions in the world. In the future, I want to found a new company called "MAGO," whose purpose will be to solve the problems in many different countries.
By giving a structure to the power of art, I want to be able to raise my hand, say "I will start working on an issue in this country next" and then immediately have 10 billion yen in funding at hand. That is my ideal.
WORK MILL: What kind of projects will you be working from now on to make this vision come true?
Nagasaka: The people in my circle of acquaintances at the moment are mostly investors and wealthy people, which only represents a certain small group of people. But in order to change society and solve large problems, I need to reach out to many different groups and people of all generations.
It will be important to get a group of people involved who are good at getting out information. So for 2021, I want to focus on this group and work on projects that anyone can participate in. I will also concentrate on expanding my reach so I can involve people not only in Japan but all over the world.
In any case, I plan to continue making and selling T-shirts and other goods made with waste from Ghana. Every time someone buys one of these goods, this reduces the waste left in Ghana. I hope I can make this into a system in which this new economy keeps running while people who take part in it at the same time learn about sustainability.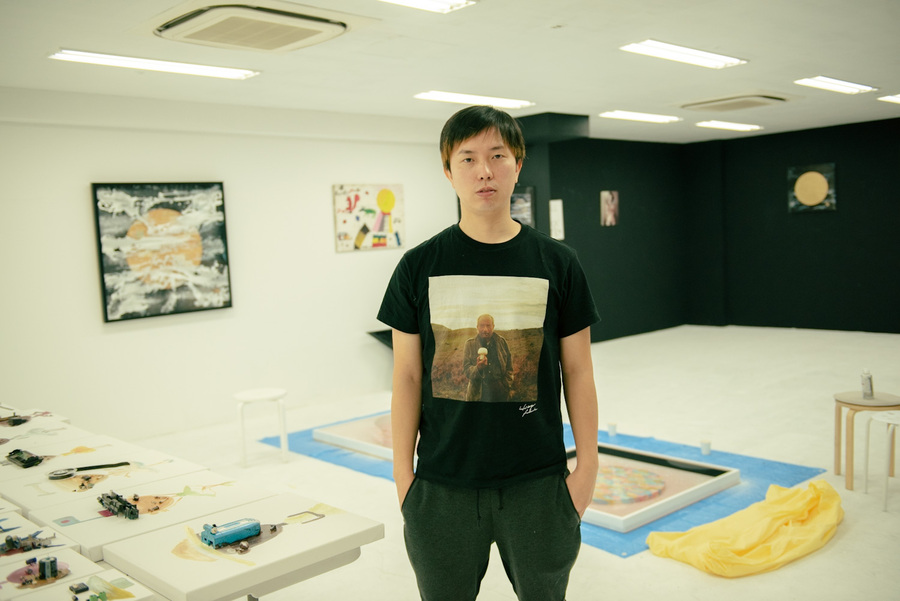 ---
Updated August 10th, 2022
Interviewed December 2020
Text: Sachiyo Oya
Pictures: Ryusei Nagano