How Can Art Create a Sustainable Society? – Mago Nagasaka, Artist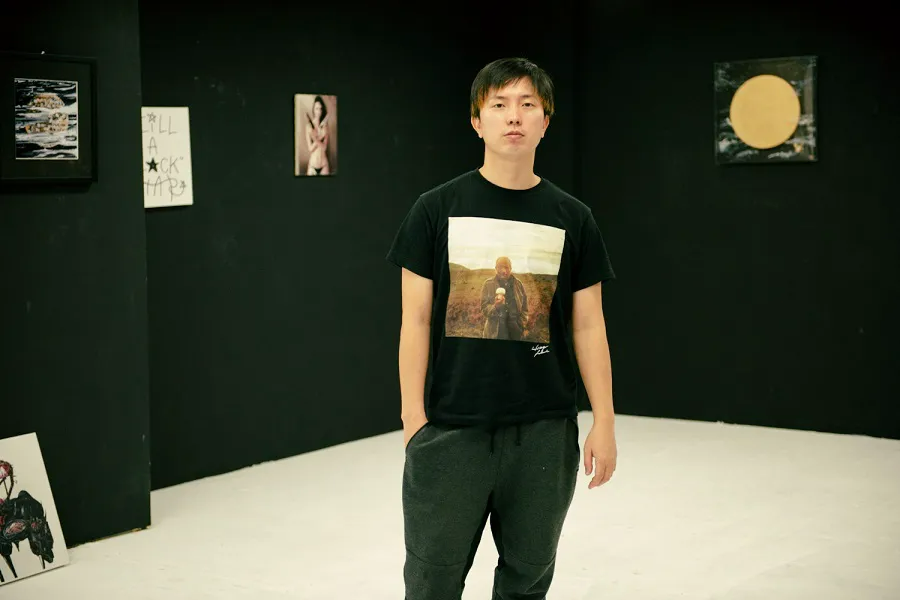 How much waste do you produce each day? Our waste is sorted into different categories so that it can be appropriately processed by specialized recycling companies. But what if trash that should have been recycled is not for some reason, and ends up being disposed in some faraway country?
In the studio of Mago Nagasaka, artist and president of MAGO CREATION, electronic waste arrives regularly from Ghana's slums. Among this mix of garbage are gaming consoles, cell phones… gadgets familiar to all of us.
"Recycling something takes a huge amount of money and work. Throwing something away costs you as much as it was worth. To cut costs, you can send two or three containers to Ghana and let them deal with it, and sadly, that is exactly what some companies choose to do."
Mr. Nagasaka experienced this absurd reality in Ghana first-hand. Since then, he transforms electronic trash into art, not only to raise awareness of the poverty and environmental issues but also to build a recycling plant right there in Agbobloshie, Ghana with the profits from his art.
"I believe in the power of art"— this is Mr. Nagasaka's conviction. But what made him go to Ghana and why did he start making art from electronic waste? In the first part of this story, we visited his studio in Nihonbashi to hear his answers to these questions.
Ghanaian People Living in the "Graveyard of E-waste"
WORK MILL: Mr. Nagasaka, you began your career as a self-taught artist?
Nagasaka: That's right. I started out as a street artist, drawing pictures of beautiful women or doing live ink wash painting events. I also held solo exhibitions abroad and worked on campaigns for a business in Shinjuku. All of that was satisfying work but at the same time, there was also a certain emptiness to it.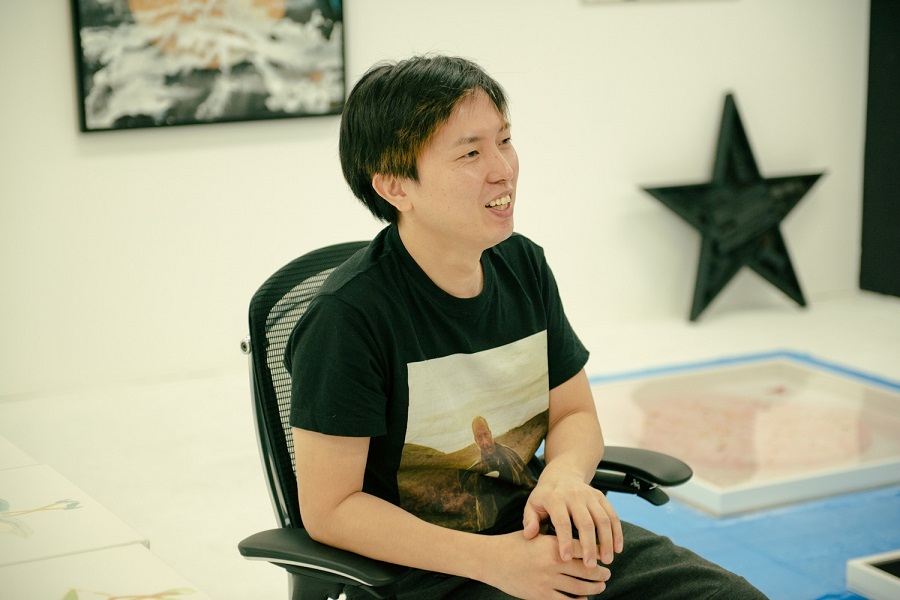 ーMago Nagasaka
Artist and president of MAGO CREATION corporation. Born 1984 in Fukui prefecture. Moved to Tokyo and enrolled at Bunka Fashion College. Worked as host in Shinjuku after graduating. Became number one host and started his own apparel brand, but closed shop again within the year. Started as street artist in 2009. Visited the slums of Agbobloshie in Ghana in June 2017 and was shocked to see how serious the environmental, health and poverty issues were there. Began producing and selling artworks made from recycled electronic waste. Founded MAGO ART AND STUDY in 2018 and the E-Waste Museum in 2019. The documentary film "Still A Black Star" on Mr. Nagasaka's work won the American Impact DOCS Award 2020 in four categories.
Then, the series of terrorist attacks in Paris happened. I was in Peking at the time doing a solo exhibition, but I couldn't stand staying there and the moment the exhibition was over, I flew to Paris. More than 100 people had been killed in the attacks and Paris was cloaked in the fear of death. I stayed there for about a month and kept thinking about if there was anything I could do.
Until then, I had occasionally made art expressing anti-war sentiments with slogans like "No war" or the such, but was there really any point in making art like that…? One night found myself gazing up at the full moon floating in the night sky and in that moment felt my heart grow quiet, and I started making full moon-themed art after that.
This experience crystallized into the belief that maybe the power of art could bring peace to the world. After returning to Japan, one day I read an article in Forbes on the smokey mountain in the Philippines. I was deeply shaken that poverty on such a scale was actually a reality and that most people were completely unaware of the fact. This led me to start focusing my attention on social problems.
WORK MILL:What was the reason for you going to Agbogbloshie in Ghana?
Nagasaka: While I did some research on social issues, I read that electronic waste that was not needed anymore was brought to Agbogbloshie via mysterious routes and there it had piled up into a "graveyard of e-waste."
Now, electronics had been a big part of my life. In my 20s, when I had almost no money, I ran something like a resale business where I bought the newest smart phone models in bulk in Taiwan or the US and then resold them in Japan. Selling five or six devices made me a profit of about 100,000 yen and with that capital I then went back abroad again….
I liked gadgets and when I found out that the objects that had helped me support myself had a fate like this waiting for them, I couldn't just see this as someone else's problem. So, in 2017, I headed to Ghana for the first time.
I had read lots of articles on this e-waste graveyard during my research but I hadn't quiet been able to picture it or get a grasp of its scale. But the moment I saw it with my own eyes, the piles of trash were reaching almost all the way to the horizon. And all around there are people living in this ocean of trash.
They burn the cords of electronic products and extract the copper and metals. One kilogram of these metals sells for 200 to 250 yen, which is enough for the people there to make a living. This is a really small amount of money compared with the international market price. With this they then they buy new electric cords for about 100 yen a kilogram and extract the next batch of metals.
The profit ratio is low and the poisonous gases from burning the cords cause serious health damage. Many die in their 30s. That is daily life there. And what brought this reality about is the economic disparity caused by capitalism.
WORK MILL: So this is where you got the idea of making art from electronic waste?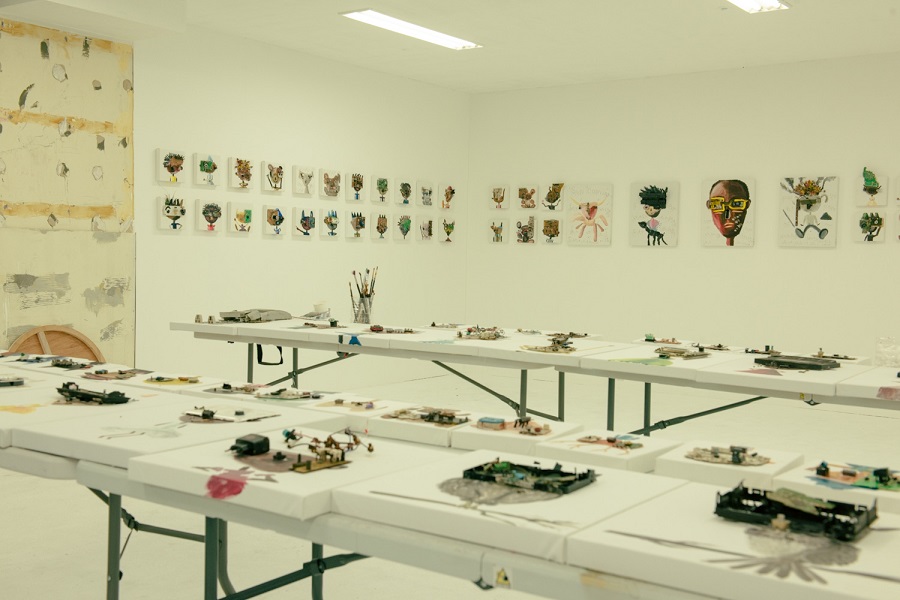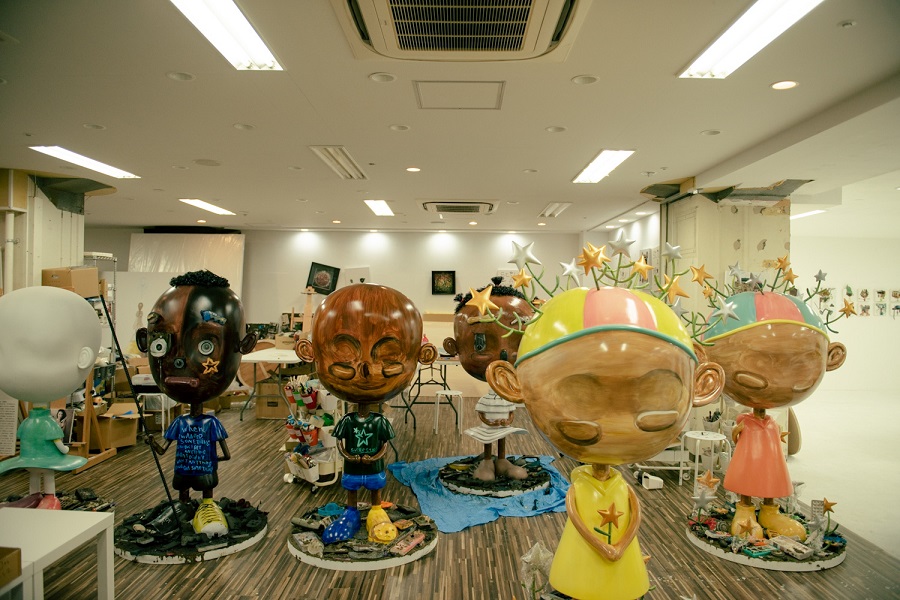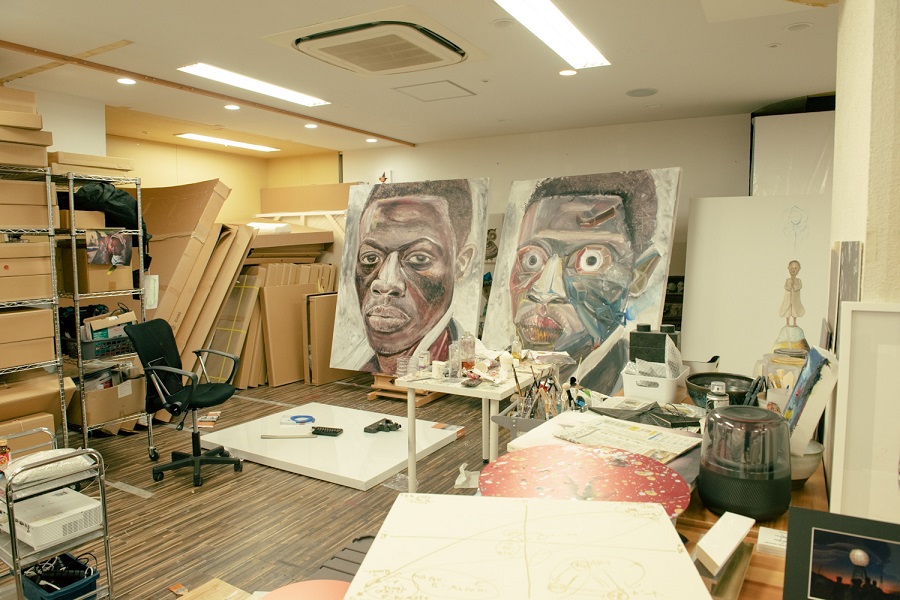 Nagasaka: That idea didn't come to me right away. I spent a few days with the people in Ghana and upon leaving for home, I told them I'd be coming back. They pointed at the gas mask I was wearing and said, "Then bring us some of these next time!" But I had no savings and there was just no way I could buy masks for all of them. So I decided to take home some of the e-waste I was crushing under my feet.
The plastic from the bodies of the electronic devices is of no use to them. It can't be recycled, so it just piles up all around. But plastic doesn't decompose, which makes it well suited for long-lived art. The first thing I started making was picture frames. I painted a boy from Agbogbloshie and framed the picture with some of the e-waste. This picture sold for 500,000 yen. The people in Ghana work for a mere 5 dollar a day, while I had just made 500,000 yen in a day with my picture. What? I started to realize how huge the power of art might be.
Back in Japan, one of the sponsors of a live painting I did happened to be the maker of the gas mask I had been wearing in Ghana. I spoke to them in person about the situation in Ghana and they agreed to provide some gas masks. So, masks in tow, I returned to Ghana, stayed for a few days and took some e-waste back home with me again.
I made new artworks with the trash, sold them and with the money I had earned once again went to Ghana. In 2018, I founded the MAGO ART AND STUDY school in Gahan and in the following year an art museum called the "Mago E-Waste Museum." I hired local staff and now children can study and learn how to do art there.
WORK MILL: The locals must have been pretty surprised.
Nagasaka: They told me, "You're the only person to say 'I'll be back' and then really did come back." To begin with, "I'll be back" is essentially something you have to say simply to protect yourself. There is no telling what would happen to you if you said something like "I won't ever come back" instead.
It wasn't like I had never thought "I don't want to come here again." I had become sick and made some other bad experiences there, too. But in the end, more than anything I wanted to solve the problems Ghana is struggling with. I think the fact that I came again and again helped to make them believe my message that it was meaningless to just raise awareness of problem but not doing anything to solve them.
"This Money Doesn't Belong to Me"
WORK MILL: At the high end, one of your artworks can fetch a price of over 10 million yen. Compared with other countries, the art market in Japan is still small, but this makes it look like there is enough potential.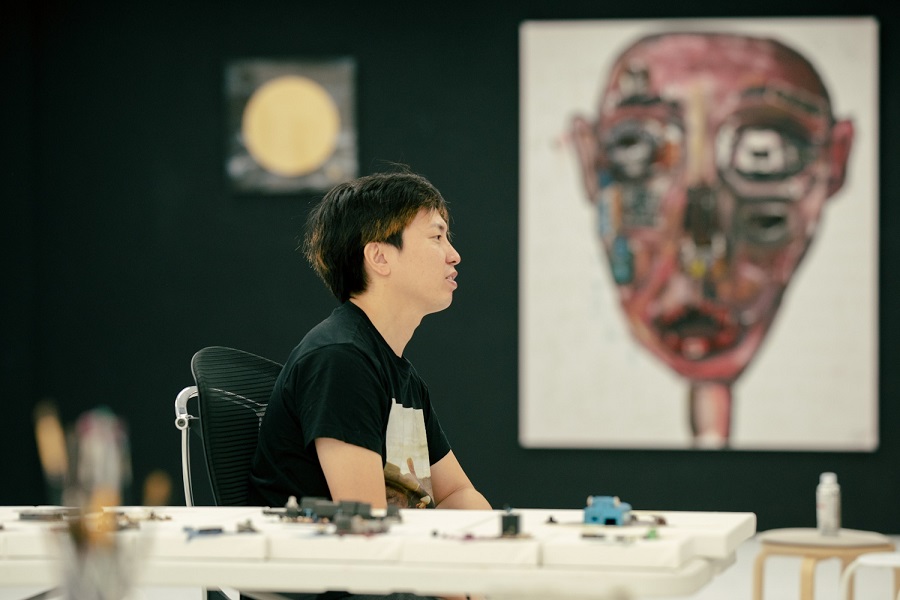 Nagasaka: I was surprised myself at first. My original plan had been to hold a solo exhibition somewhere as soon as I was good enough at painting pictures of Ghana and had made a few dozen pieces of art, but I didn't really have any connections to galleries in Japan. So I asked a proprietor, who was collecting my works, for advice. He offered to let me use a hall in Yurakucho for three hours.
I put my artwork from Ghana up for exhibition under the slogan "Changing the world with art." At the exhibition, a collector of modern art made an offer of 15 million yen for my works, saying they wanted to buy them at an appropriate value. They even came all the way to my apartment and eventually bought the artworks, together with other pieces, for 25 million yen.
At the time, my art was worth 1 million yen at most but now one of my pieces was worth 10 times as much; I had suddenly become a 10 million player. With 25 million yen you can build a house in my hometown.
This was the first time in my life for something like this to happen to me and others might have been ecstatic about it. Was this the real deal or had I just gotten lucky? I was still half doubting this could be real myself and managed to keep my feet on the ground.
After this I returned to Ghana again and continued making new art. I held an exhibition at Umeda in Osaka, which more than 20,000 people came to see. So many of my works changed hands there that even with an output of 600 pieces a year, I would have trouble keeping up. In that one year, I made 300 million yen in sales. I hadn't just "gotten lucky."
WORK MILL: It wouldn't be strange for someone to be satisfied with selling their art for good money.
Nagasaka: The company's sales are a few hundred million yen, but my own salary is actually only 5% of the total proceeds. That's enough. Because it's not my money. The money belongs to the people in Agbogbloshie to begin with and I just hold on to it for them. Returning this money to them will make not only them happy but me as well.
The more artworks I produce, the smaller the heaps of trash in Ghana get and the more money is available to fund the building of a school, an art museum and a recycling facility in Ghana. I want to invest in solving their problems and in creating a sustainable society.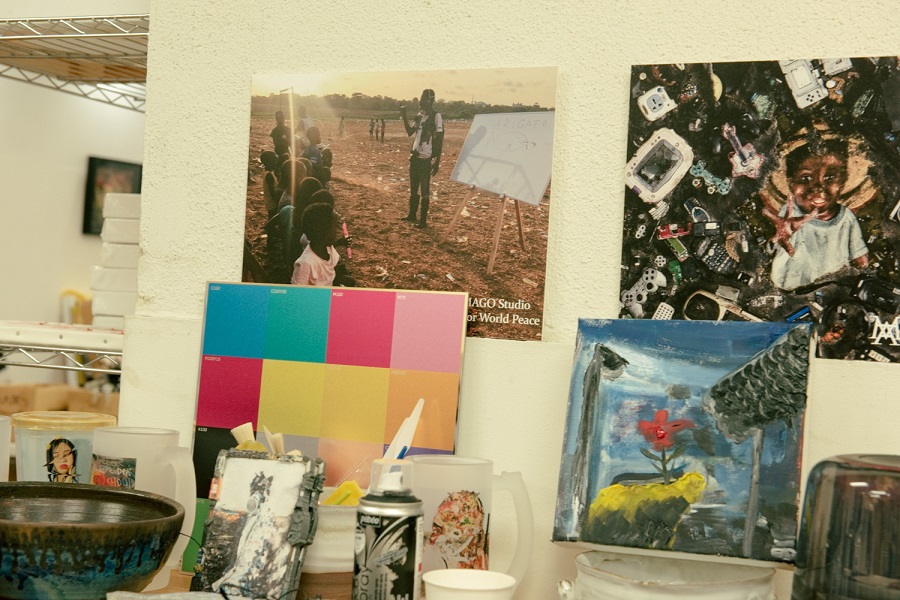 ---
This was the first half of this story. In the second half, we will talk with Mr. Nagasaka about his solutions for these problems and his business model.
Updated August 4th, 2022
Interviewed December 2020
Text: Sachiyo Oya
Pictures: Ryusei Nagano