Diverse Work Styles for Everyday Life: "YOUR WORK GOOD" with Noriko Ishizaka(Ishizaka Recycling)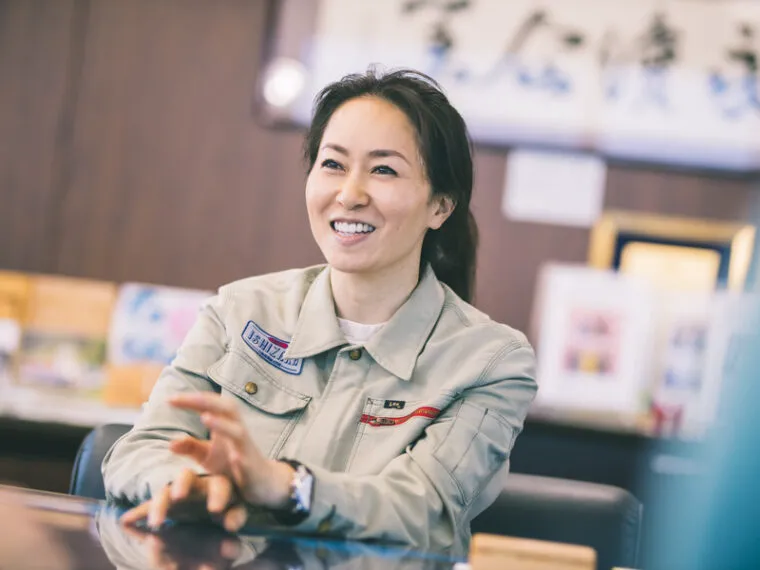 WORK MILL offers inspiration to create your "WORK GOOD," your own unique style of work. We carried out a survey with people who have been featured in past issues of the WORK MILL web magazine to find out what "WORK GOOD" means to each of them.
What does "WORK GOOD" mean to you?
What do you keep in mind every day to realize your "WORK GOOD"?
What do you feel your purpose is in work?
Through these three questions, we will learn more about "WORK GOOD" .
A Workplace Where Younger Generations Want to Work
What does "WORK GOOD" mean to you?
Choosing things I like according to my own style, using all five senses, and creating my own space among them. Also, tackling things with flexible strength, even when it's difficult, or others don't understand right away. My motto is "constancy and change." Imagining an ideal future while valuing both the unchanging and the ever-changing, and choosing the actions to realize that future for myself.
What do you keep in mind everyday to realize your "WORK GOOD"?
When I took over as company president, I asked my father to write down his own management philosophy: "Humble heart, positive attitude, effort and service."
At first, it didn't really feel like a management philosophy to me, but over time, I understood the impact of those words and the importance of sharpening my perceptions and continuously asking myself: "Am I accepting things with a humble heart, and tackling them with a positive attitude, and with a sense of effort and service?"
What do you feel your purpose is in work?
Being able to feel the circle of sympathy for Ishizaka Recycling's efforts expand as I gradually move toward the future that I believe can be changed, an ideal future.
Also, improving the image of the waste processing industry overall, which is viewed negatively despite doing work that is absolutely necessary for society, making Ishizaka Recycling a place where younger generations want to work, and actually seeing employees working busily and happily.
―Noriko Ishizaka
Born in Tokyo Prefecture in 1972 After graduating from high school, she went on a short-term student exchange to the United States. In 1992, she joined Ishizaka Recycling, Inc., a company founded by her father. In 2002, due to a false report regarding dioxin contamination of crops in the area of Tokorozawa, Saitama Prefecture, she vowed to her father that she would change the company and took on the role of president.
*Profile at the time of the interview in the following article.
Why a Garbage Recycling Plant Gets Over 40,000 Visitors a Year: Noriko Ishizaka of Ishizaka Recycling
 Updated: April 22, 2022
Photos: Kensuke Oki
Editing: press labo,inc.