How Can Humans and Cats Co-Exist in the Office?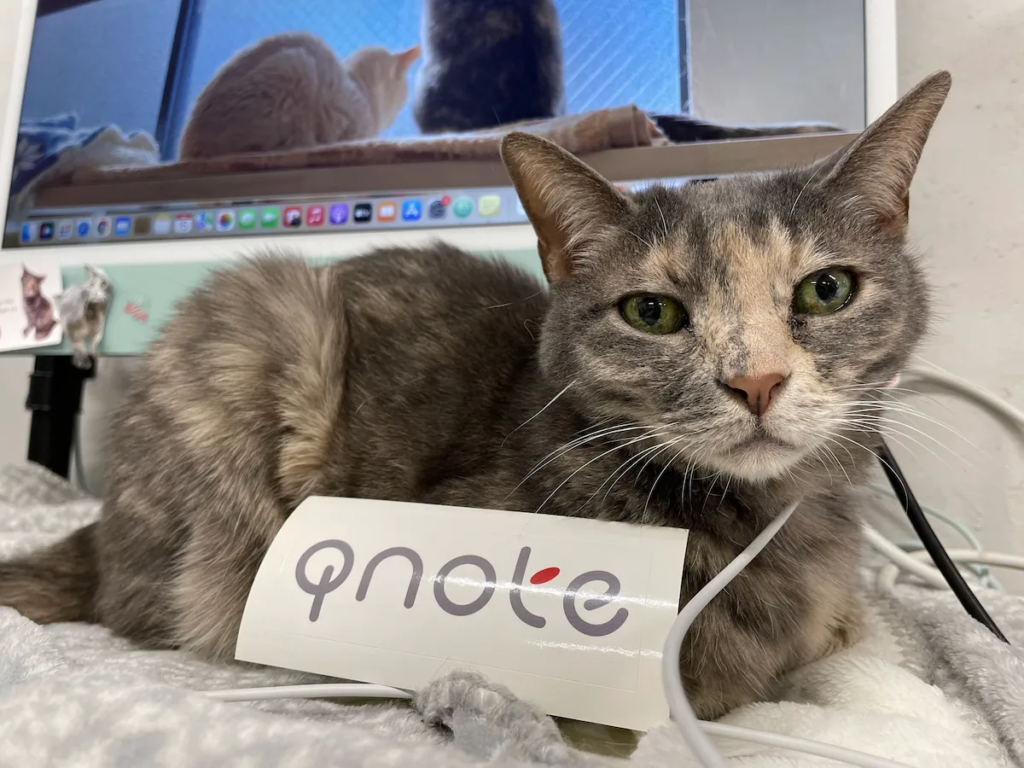 Just imagine how much fun it would be to have a cute little furry friend in your office! It would become such a perfect place to work, right? But unfortunately, having animals in the office is not usually a welcomed decision. And even if it is, most offices would just back down because it is a very heavy task that requires a lot of preparation and care.
Now you'd think, what kind of preparation and thought is needed to create an animal-friendly office environment? Well, the best way to find out the answer to this question is to hear from companies that have already welcomed animals into their offices, wholeheartedly!
Nobuyuki Tsuruta is the President of qnote Inc., a workplace where nine cat employees work in the company's office in the Suginami Ward of Tokyo Japan, which is also known as the "Cat Building". Tsuruta talks about creating the right environment for working alongside cats and the significance of welcoming animals to the company.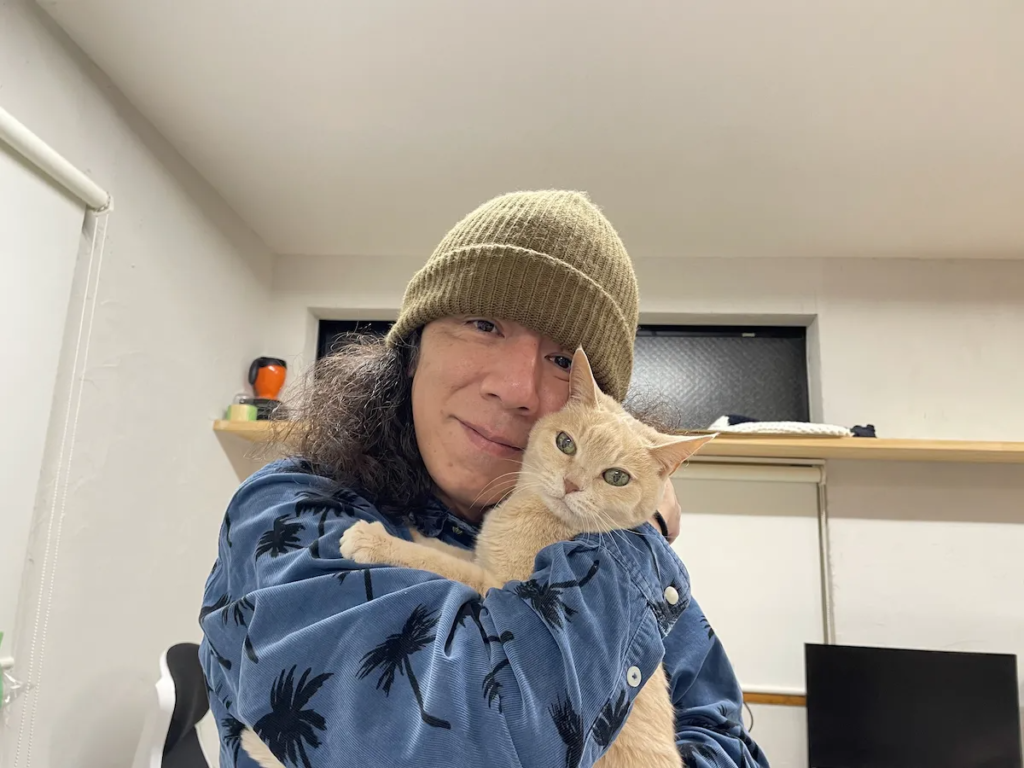 How did Nine Cat Employees Join the Office?
According to Tsuruta, it all started when he met a shelter cat named Futaba, who was looking for an adopter, at a sushi restaurant. At the time, Tsuruta had just started his company with 4 other founding members. When he asked them if they would be willing to welcome Futaba into the company, everyone readily agreed. Since three of the four members at the time had originally lived at home with cats, they had been very generous about it.
From the very beginning, Tsuruta wanted to lead a free company that existed without too many rules and regulations. So, when it came to taking in a cat in the workplace, he refused to have any rules against bringing animals into the office. He says, "I naturally thought that if any cats were looking for adopters, it would be okay to welcome them."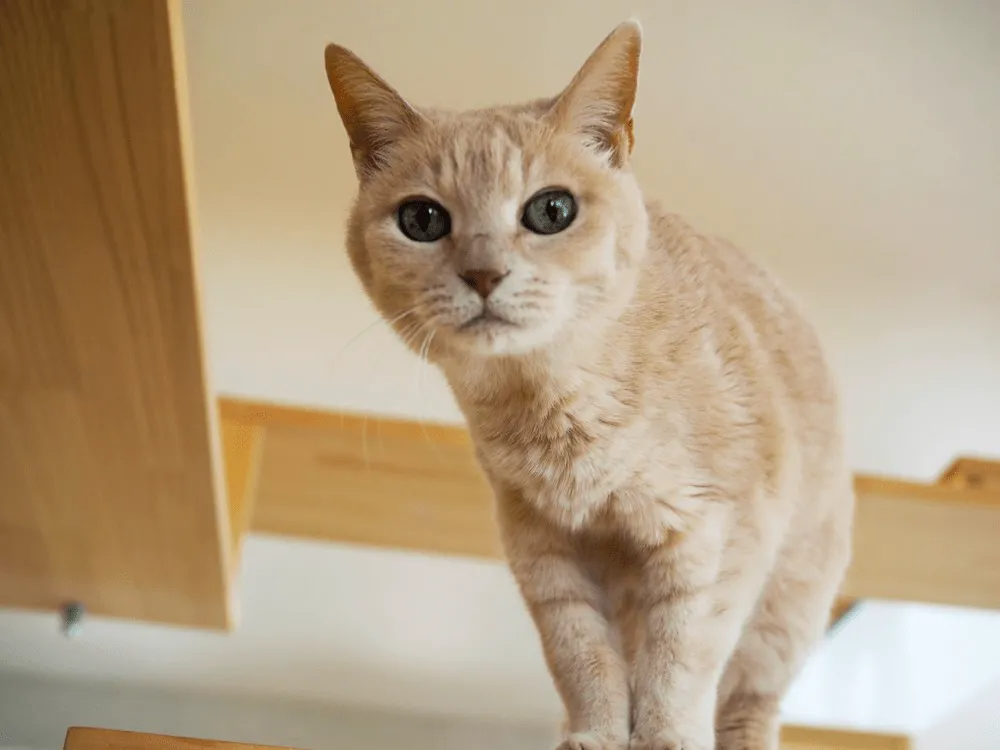 Interestingly, when Futaba was growing up, she was matched with a boy cat from an employee's house, and together, they gave birth to six kittens. While the father cat and one kitten returned to their original home, the other five are still at the company.
Since then, the company has added a few more, including one that an employee found on the street and another that they took in as a temporary shelter when a nearby cat café was relocated. That's how the total number of cats at the company got to nine.
However, the cats have various affinities with each other. So, while some of them were adopted by the company, some were also adopted by employees.
How to Create a Cat-friendly Office?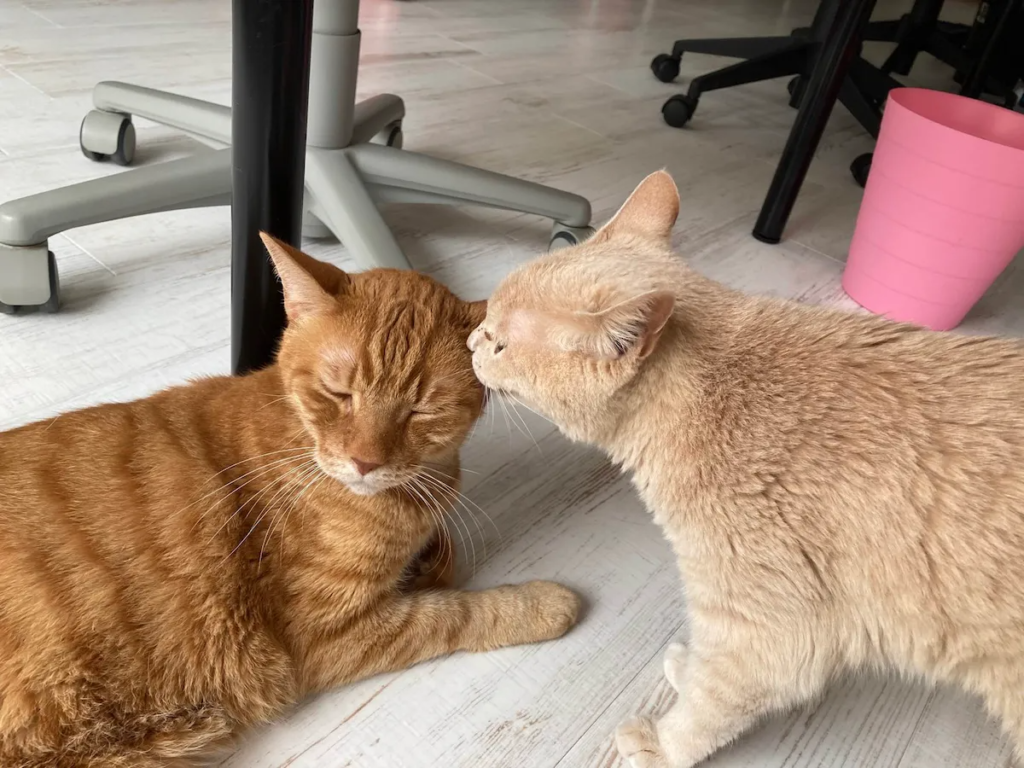 After several previous office relocations to accommodate the number of employees, the company moved to its current building, the 'Cat Building', in Asagaya, Tokyo, in October 2020. It is a four-story building, with office space on the second and third floors. The space has been specially designed with various innovations to create a comfortable environment for cats.
The foremost concern of cohabiting with cats is the issue of littering and defecating. That's why, the first step in the renovation was to secure a space for cat toilets, for which shelves were built on the staircase landing to make room for those toilets. A maximum of 12 cat toilets are there in the office, wherein 6 toilets can be placed on each of the 2nd and 3rd floors. With this dedicated toilet space, the problem of cat litter dispersal has been considerably eliminated.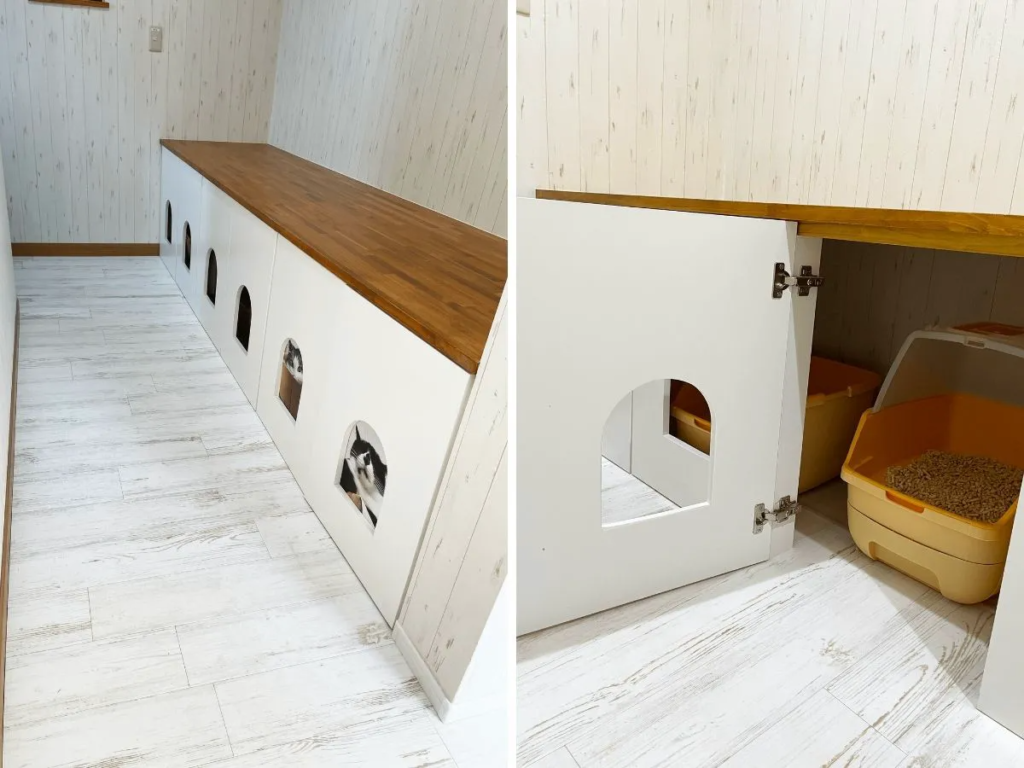 The toilets need to be washed regularly, so the original unit bath was dismantled and a new shower room was built. A pet sink, which is also used in veterinary clinics, has been installed there. Cat toilet cleaning is scheduled once every one to two weeks, and all employees work together to wash the toilets.
Additionally, the office area is lined with desks along the walls and a catwalk runs the entire length of the room, starting from two pillars in the center of the room, where cats walk leisurely over the heads of employees.
On the floor are a cat bed and a children's tent with a hot carpet, where the cats can gather around and sleep cozily.
To take extra precautions, there aren't any houseplants on the office floor to avoid any chance of poisoning. The office employees also take great care in handling small objects that could be accidentally ingested.
It is common for the cats to climb up the walls and sharpen their claws, and tear up the wallpaper, which is why qnote Inc has stopped putting up wallpaper. Instead, the employees have hand-painted a wall known as the 'shirasu wall'. In fact, the walls of every area that the cats have access to are painted in this way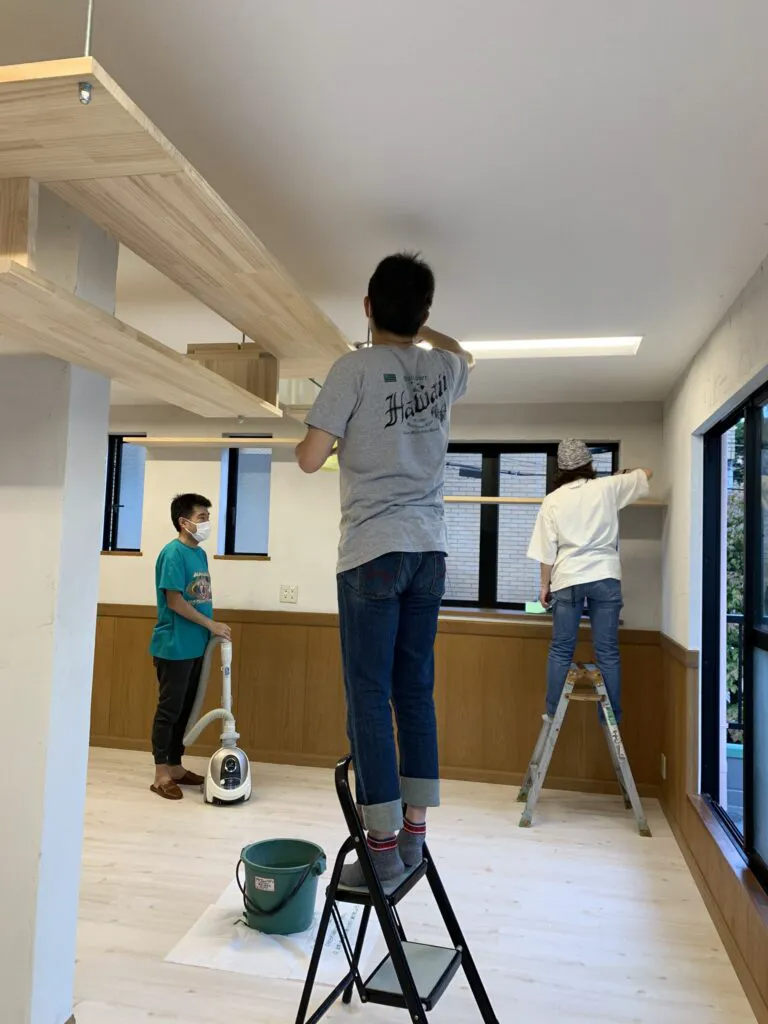 Tsuruta also points out that all these activities of making the office more cat-friendly and have become a great team-building exercise for their employees as well.
Why do Cats Increase Communication in the Office?
Nobuyuki Tsuruta believes that cat-loving employees tend to volunteer more to take care of them. There are noticeable differences in how different people deal with the cats, which is fine and can be a good way to understand the characteristics of individual employees.
Tsuruta also believes that the presence of cats in the office provides more opportunities for common topics of conversation and joint work. As a result, communication between employees has increased, creating a more positive work environment.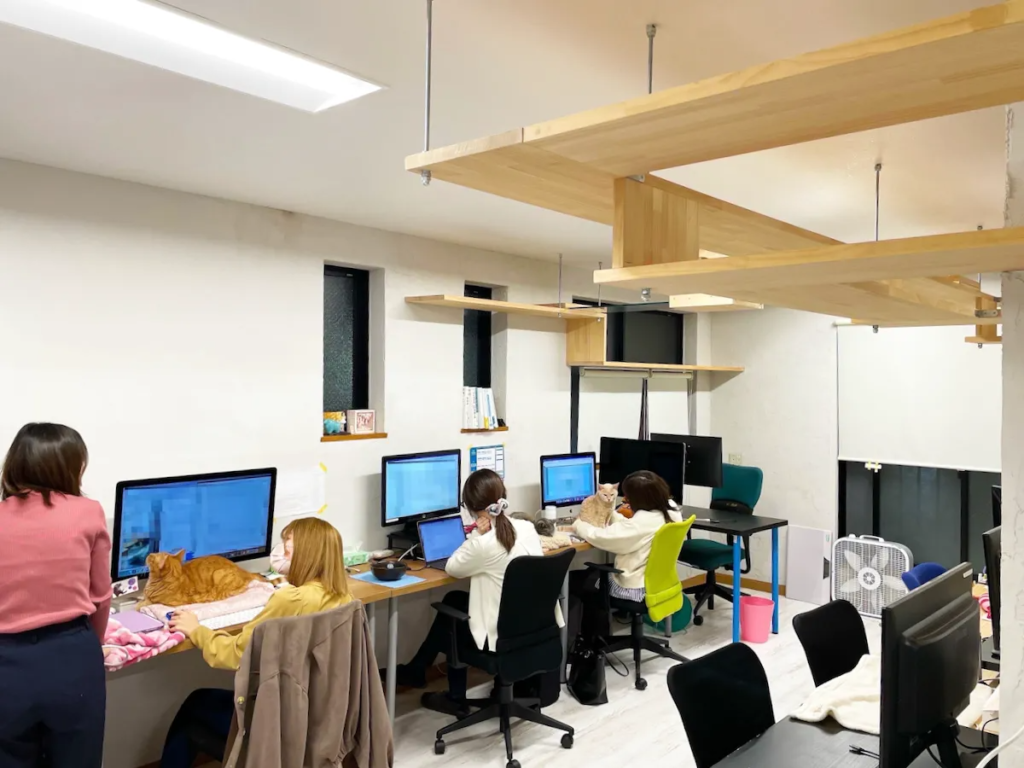 This cat-positive environment at qnote Inc. has turned it into a really fun, healthy, and positive place to work, which is why it also keeps on attracting more people to apply for jobs here. Beaming with pride, Nobuyuki Tsuruta says, "You can never scold loudly or power-harass a coworker while holding a cute cat in your arms… Our cats are good luck, inviting both happiness and people."
How did the Office Care for the Cats during Covid?
qnote Inc. has always had a flexible working system, meaning that employees are allowed to come to work at any time. During the pandemic, the members who came to work at the same time were generally fixed, so the office took care of the cats on a day-shift basis.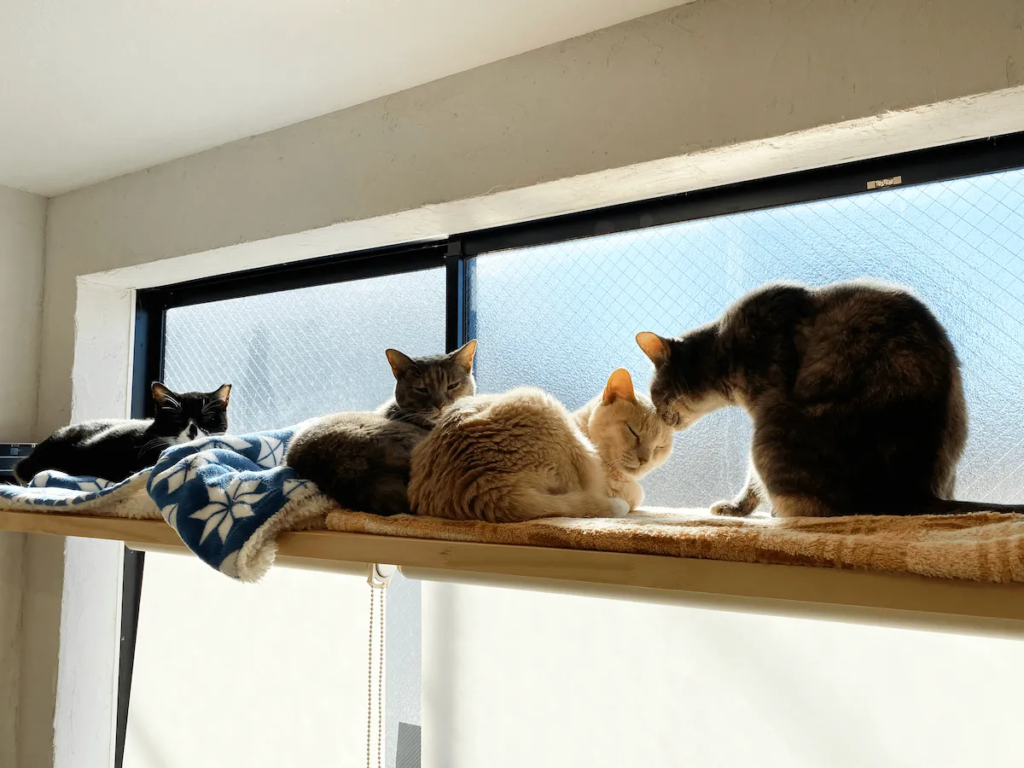 However later, since the company wanted to encourage remote working, it took a break from the day shift system to be flexible. This led to the cats being taken care of by people who lived closer to the office.
Taking Care of the Senior Cat Employees
As cats age, their kidneys and liver deteriorate. Futaba and some of the other cats at qnote Inc. have gradually started showing signs of aging since they are over 15 years old. While diseases and symptoms make it necessary to go to the hospital, going there frequently can be very stressful for the cats.
Therefore, qnote Inc. is creating an environment where everyone can take care of the cats by learning how to administer medication and subcutaneous drips at the company. The company uses Microsoft Teams and Nulab's backlog tool to manage the medical certificates and medication information that they receive from the vet.
They also have a room dedicated to cat photos, where cat videos and photos are uploaded daily.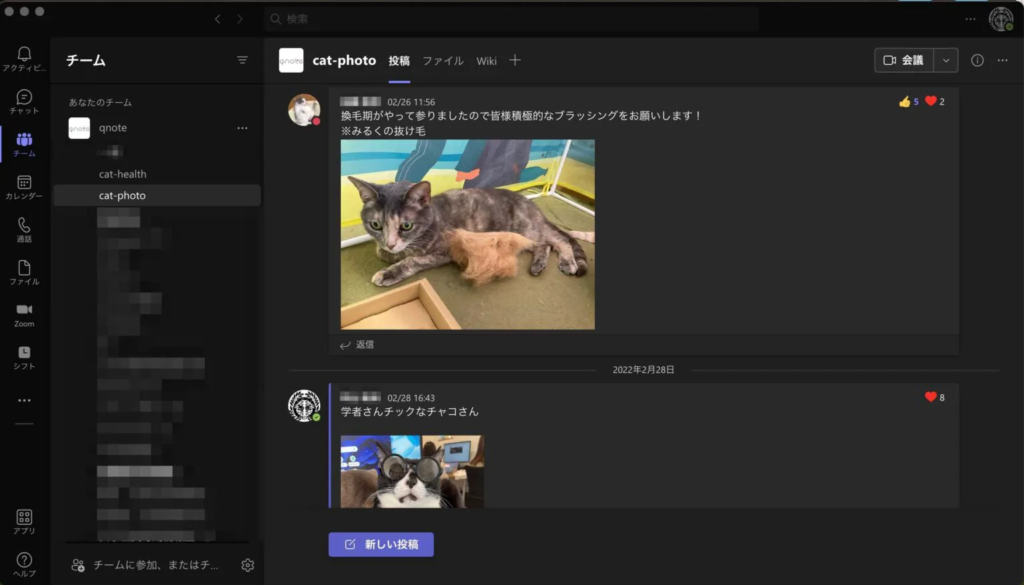 Why should Companies Accept Animals into the Office?
Cats are irreplaceable and precious beings that can bring a lot of happiness and learning. qnote Inc.'s President Nobuyuki Tsuruta says that more companies should be proactive about accepting animals into the workplace, provided that they can give them the right environment.
He believes that fostering animals is an opportunity to develop a sense of responsibility and self-esteem, which are very important in the workplace.
Instead of thinking, "It's strange to have animals in the company", if people started believing, "It would be fun to have a cat in the office", things would start changing for good.
Tsuruta concludes, "When individuals and volunteer organizations, who have very limited funds, can work to save the lives of animals that have nowhere else to go, why can't healthily functioning companies take some initiative too? I hope that more companies will do what they can to help, even if it is for just one animal."
Interviewed: Feb, 2022
Production Cooperation: Yumi Hyfielde + Note,Ltd