Pinterest: What Remains the Key to their Success?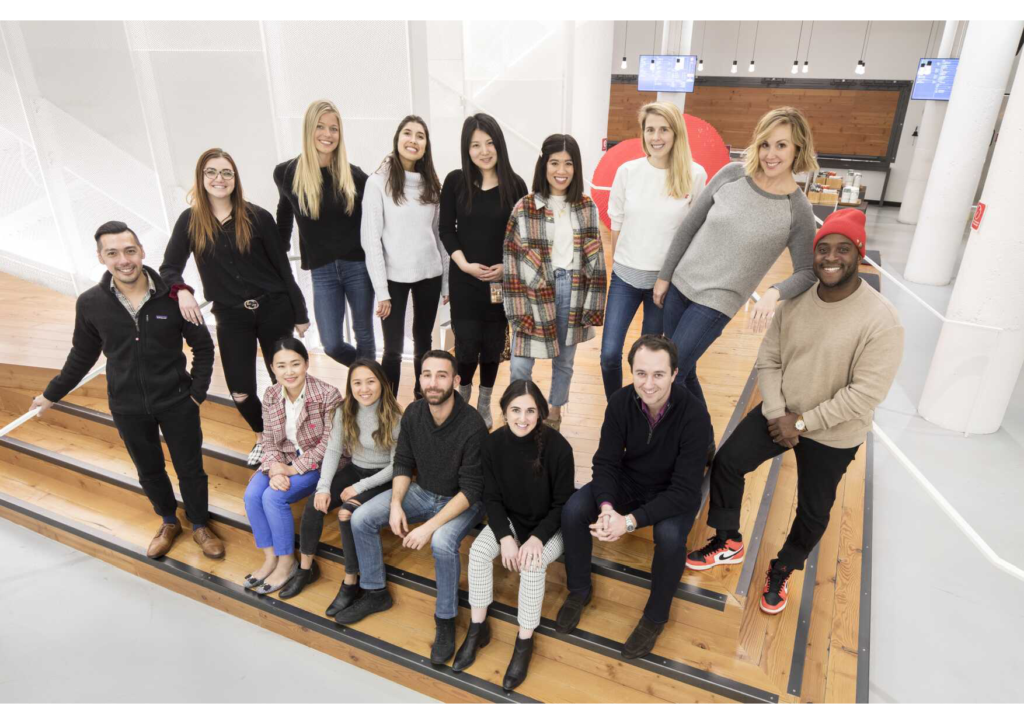 Young, highly receptive people create the world of Pinterest. The secret behind the company loved by its workers lied in the knit culture.
The original article "PINTEREST" is a part of the WORK MILL with Forbes JAPAN Issue 4 -loved company©WORK MILL, published on April 11, 2019
Astructure of interweaving diversity
"Can I join you? Hey, why don't you come too?"
Their small talk indicates the company's gentle, flat mood.
The secret behind the company loved by its workers lied in the knit culture.
The redevelopment of the SOMA area of San Francisco has been underway these last few years and is quickly turning it into a fresh new industrial area. This is where the Pinterest office is located, along with other star players like Google, Airbnb, and Adobe. Most of the employees of Pinterest, who has up to 250 million active users per month, work at this office. One step inside and the open and creative environment symbolizes the trendiest company in the world of techies.
Pinterest is a place where what you love can become your career. It's a place of self-fulfillment.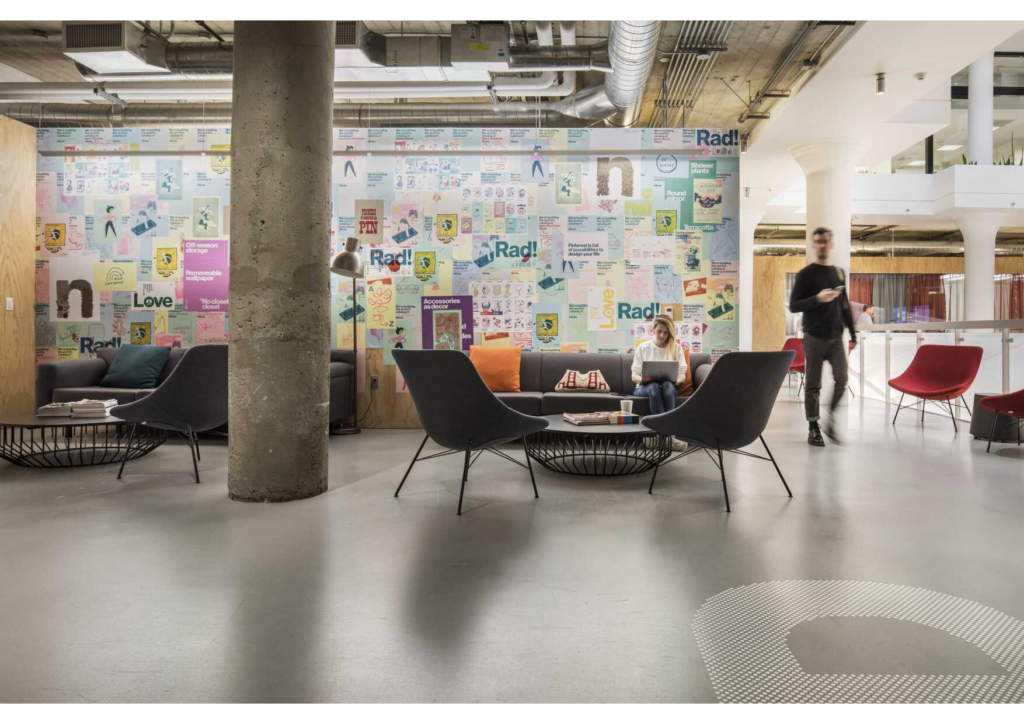 The Pinterest office we visited mostly housed producers and designers while engineers worked at another nearby location. Each floor has a sofa set with a low table and a kitchen space. Employees are encouraged to interact here.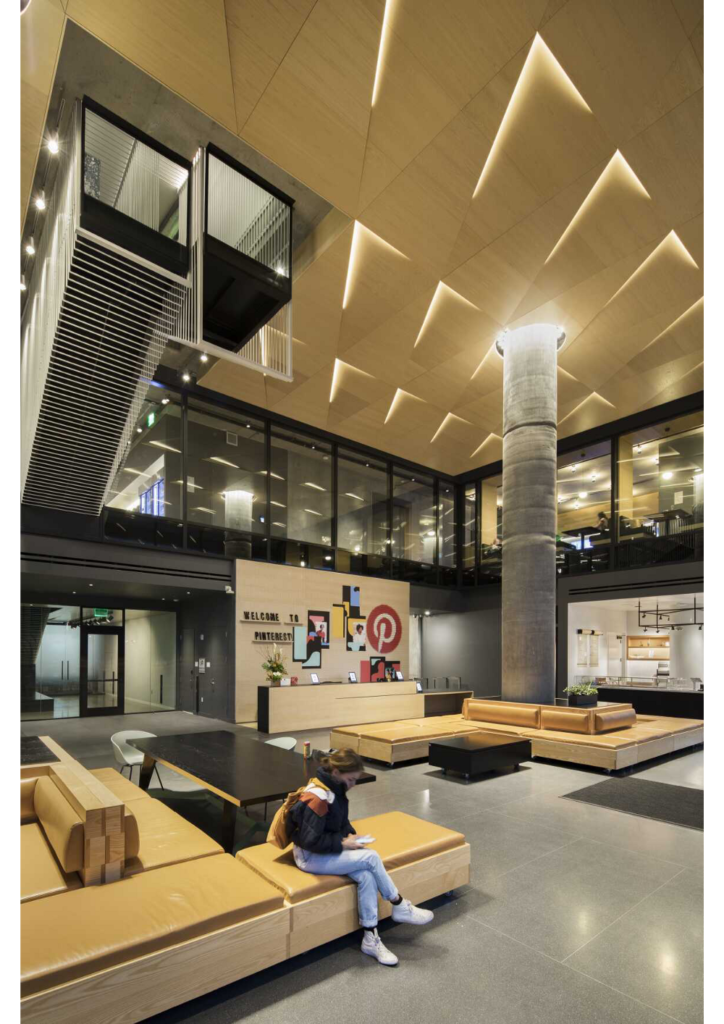 The entrance to another office.
The fancy walls and high ceiling behind the reception desk stand out. There's also a cafe run by Pinterest. And it's cashless (obviously).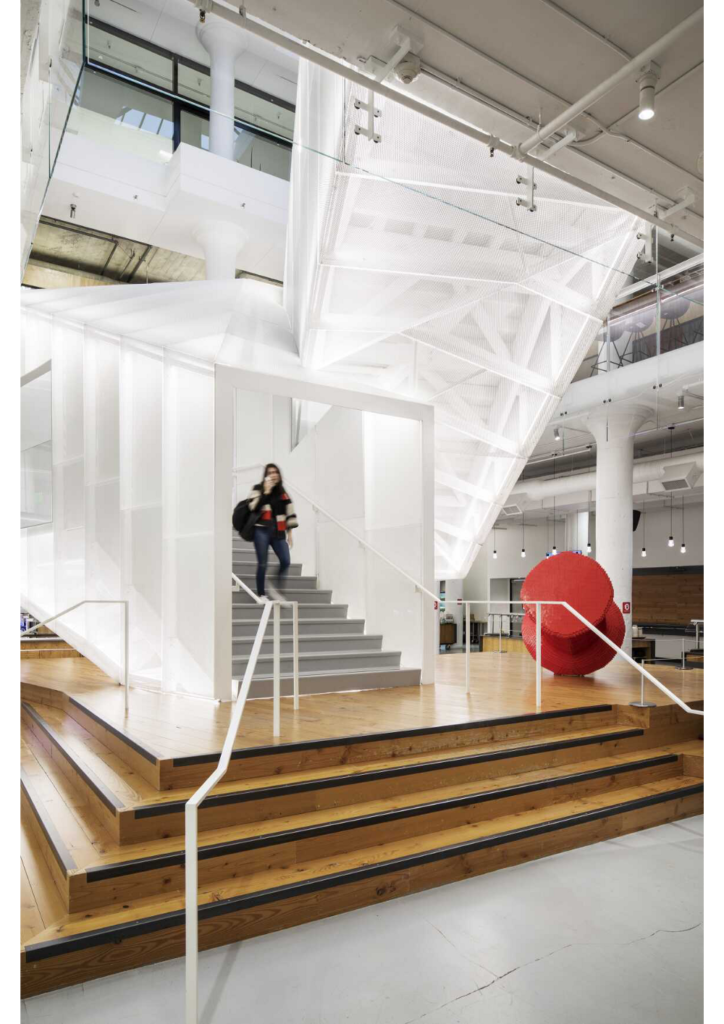 Pinterest takes designing the workplace seriously. The cafeteria spreading before the stairs is used regularly for gatherings and events.
A workplace to embody individuality
Larkin Brown has been working at Pinterest for 9 years. "I'm one of the old-timers around here now," sighs Larkin. The average age of the employees seems to be in the early thirties. The office is flowing with young vibrant energy.
Larkin was formerly employed at Google Headquarters as a social media analyst. It's a spot at one of the world's most famous enterprises, but she says that the job didn't excite her much. "I've always wanted to work in fashion and beauty. But I'd given up because I figured making a living out of what you love wasn't realistic." During her days at Google, Larkin had a side job as a personal fashion coordinator.
Thanks to her career background, about 3 million users visit her Pinterest Board "Style" every month. "Fashion and beauty is my passion. It's my job, and it's my life. Getting quick feedback from the users whenever I curate attractive pictures gives me such a sense of achievement. Pinterest is a place where what you love can become your career. It's a place of self-fulfillment."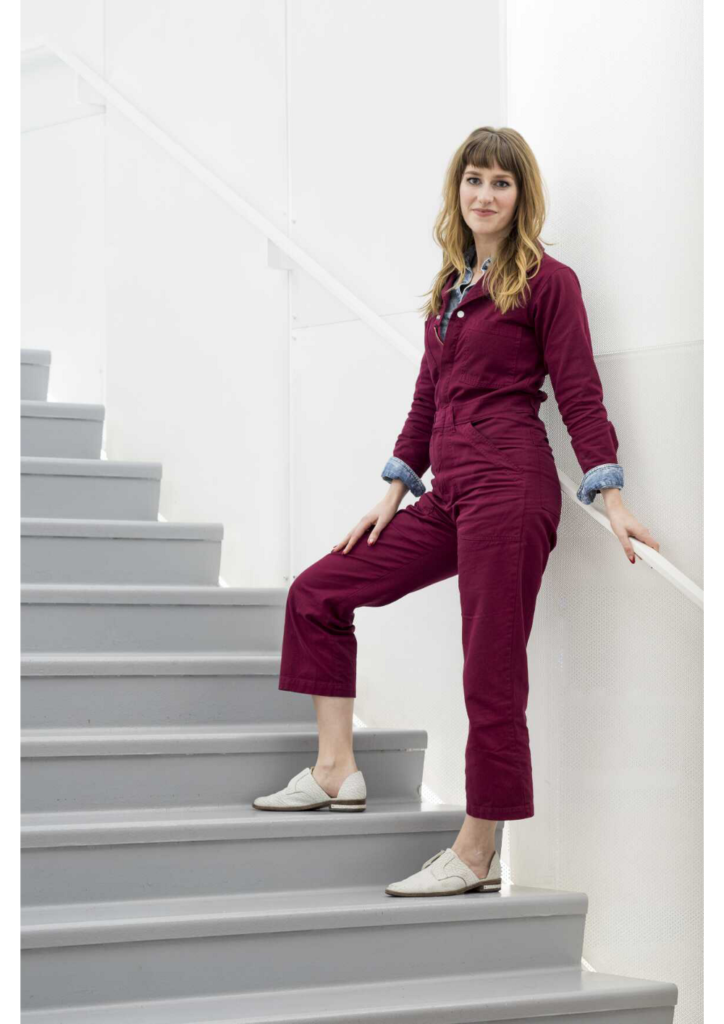 Pinterest's services are loved by people all over the world, but only because the people behind it love them too. It only takes one quick look around the office to spot people sporting sweatshirts and caps with the Pinterest logo printed neatly on them. Why do the employees here, including Larkin, love their company so much? The secret lied in the firm's diversity and culture.
Pinterest characterizes its company culture around the word "knit." The object of this culture is to "knit" diverse employees together to inspire one another and create new ideas. "At Pinterest, titles and positions really don't mean a thing," says Larkin. "There's a culture here where employees with different skills, experiences, and expertise can share their ideas. This is how inspiration is born and perspectives are broadened.
At normal companies, engineers would work with project managers while sales would work with a PR , and they wouldn't usually interact with anyone outside of that. But here, though I'm a researcher, I work with designers and even product managers." People with diverse nationalities, cultures, and experiences gather at this San Francisco office. This diversity must be another reason its employees are so drawn to their company.
Their "knit" culture has even become a regular event called "Knit Con." For two days out of the year, employees leave their jobs to create groups based on their hobbies and interests so they can interact. Each group has a leader. Larkin is highly experienced in fashion, and being a stylist, she has created a styling class for Knit Con.
There are classes for basically anything; kickboxing, flower arrangements, dance, and even survival techniques. "I get to interact with people who I would never meet otherwise through Knit Con, and they can see that there's a different side to me. It's really stimulating to be able to rediscover your colleagues' talents and passions. It also helps us to come up with new ideas for our users."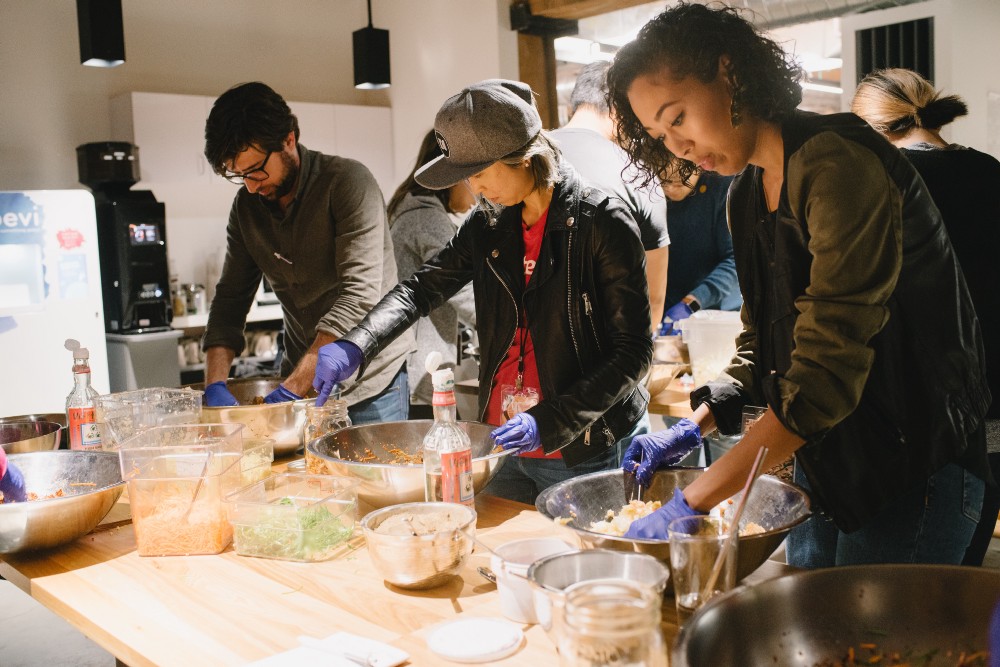 Pinterest's Knit Culture
The "analog" version of Pinterest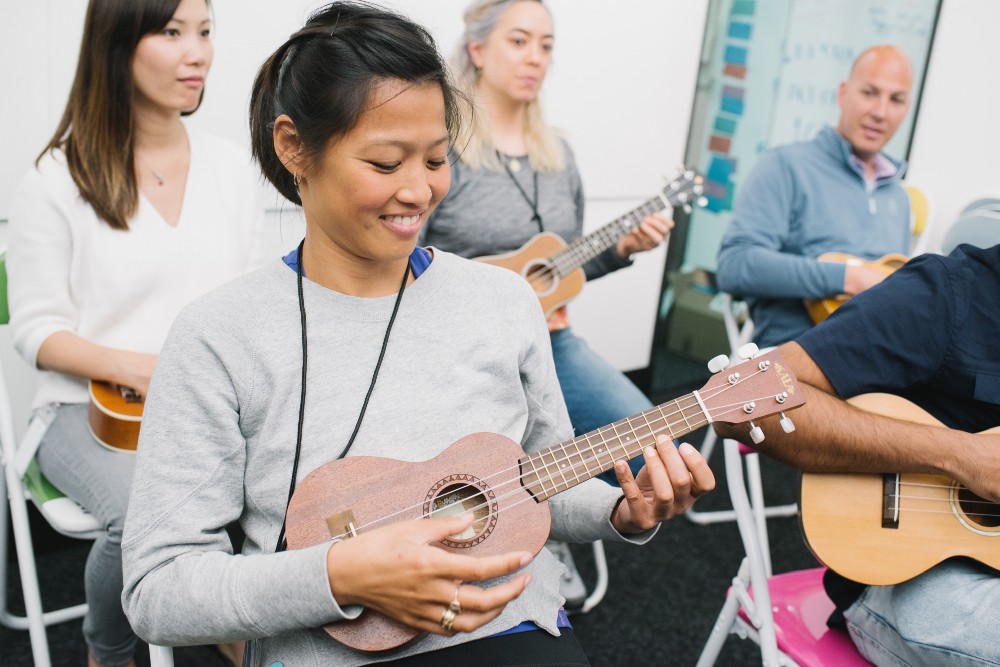 At Knit Con, where employees from all over the world converge, events that showcase the talents of the employees, such as cooking, ukulele playing, and latte art, are held in many locations. It's a chance to inspire one another through real interactions, which is why Evan Sharp calls it the "analog version
of Pinterest."
Be Authentic
At the backbone of all teams, projects are the motto "Be Authentic." The culture encourages people to hold opinions and speak up. "As the team proceeds with making decisions, there will always be opposing opinions. But even if the project fails, we don't blame our teammates. Instead, the team grows stronger as we make the best of the experience to create something better. To be authentic is to be true to ourselves. Because the environment is so ready to accept our individualities, we can all work with positive minds and love the services we create."
It's past 4 pm, and workers begin to head home. There are no set work hours or timecards. Everyone works according to his or her own personal schedule. We chat with two employees heading out of the office. One is a woman in her early twenties and the other is a man in his late twenties. They joined the company less than a year ago. For the Knit Con activities, the man took a course in survival while the woman took one in bonsai and botany. Both say they discovered a new side of themselves after joining Pinterest. Their bright spirited expressions show how satisfied they are with their work environment.
Pinterest: Founded in 2010 by Ben Silbermann and Evan Sharp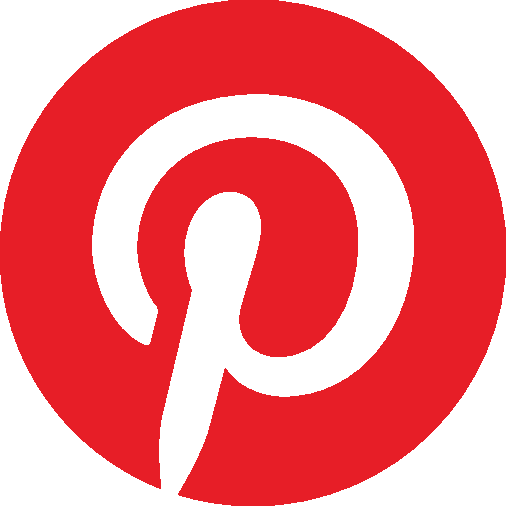 Ben was chosen for Fortune magazine's "40 Under 40." Pinterest began as a service where one can "pin" and collect any image from the internet, and has now become a personalized inspiration provider. Pinners, mostly of the younger generation, use it for anything from fashion to interior design and even weddings. Companies acknowledge it as an effective marketing tool. Pinterest

has provided its services for 10 years now, but the number of users and sales are still rising steadily.